Over 30,000 acre's of land scouted year round.
At R.E.P. Lure's, our Guide Staff, scout's 30,000 acre's of prime hunting land year round.
We track and find the animal's, so our client's are placed on prechecked active area's.
Our Guide's have a very high knowledge of tracking so if you wound a animal, we will find it.
If you don't get your hunting limit or trophy with our service, you don't pay.
However if you are presented with a shot and you miss, or fail to take the shot, you will still have to pay the service fee, as we had presented you with the opportunity for the game of your choice.

Whitetail Deer, Hunting.
In our area of North Central Wisconsin, the Deer herd's are very healthy, and for a good reason, plenty of corn, soybean,& clover field's, along with the Deer's natural forage of acorn's from the large acre's of oak forest's.
Deer harvest management method's, have resulted in producing very large record book trophie's, year after year in our hunting area.

Guide Rate for Whitetail Deer = 500.00 per day per person.
Coyote & Fox, Hunting.
The Coyote and Fox population's in our area are very high.
After all the other hunting season's are over, a good hunt on a moon filled clear winter night, for the wary Coyote or Fox tend's to be a true challenge for anyone's skill with a firearm.

Guide Rate = 500.00 Per day, Per Client.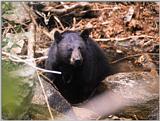 Black Bear, Hunting.
Our area in North Central Wisconsin, hold's the State record for the largest Black Bear killed.
Very good population of Black Bear's in this area, with twin's being born almost regular.

Guide Rate = 1500.00 Per day, Per Client.
Squirrel, Hunting.
Large forest's of oak, are the prime area's for this small but challenging hunt.
The Gray Squirrel's will often fool a hunter by staying on the other side of a tree, but when the hunter sit's down, they can't hold back from barking or showing themselve's.

Guide Rate = 200.00 Per day, Per Client.
Goose & Duck, Hunting.
In our area, you can't go to a river or lake without seeing a good size group of Duck's or Geese.
When the migration start's, and the hunt begin's, they know where you are.

Guide Rate = 500.00 Per day, Per Client.
Grouse, Hunting.
Our area has been called, the Grouse Capital of the world, and for good reason, every where you look, whether on a roadside, logging trail, or in the thick of the forest, you will flush them up.

Guide Rate = 200.00 Per day, Per Client.
Cottontail & Snowshoe Rabbit, Hunting.
Some of the best area's to hunt Rabbit's, are down old railroad track's.
Our area has large swamp's of alder, that the Rabbit's can't stay out of.
Guide Rate = 200.00 Per day, Per Client.